10 Interesting Facts About Jerusalem Artichokes
by Editorial Staff
Jerusalem artichoke is a widespread herb. Its stem is erect green with pubescence. The leaves are large-toothed at the edges of an ovoid, cordate, elongated, or oval shape. Basket inflorescences, yellow Jerusalem artichoke flowers, similar in appearance to a sunflower, but slightly smaller in size. The stem of the plant reaches an average height of three s, but there are species up to 4 s in height. The underground part of the plant is represented by stolons and tubers. Tubers are small fruits of Jerusalem artichoke, the size of a potato, similar to ginger, which differs in shape and color depending on the characteristics of the variety. One tuber can reach a mass of about 150 grams. The people call the tubers an earthen pear. Their flesh is juicy and sweet and tastes like nuts and sunflower seeds. What do you know about Jerusalem Artichokes? We will tell you 10 interesting facts about him, and if you have something to add, be sure to leave your comment under this post!
Facts About Jerusalem Artichokes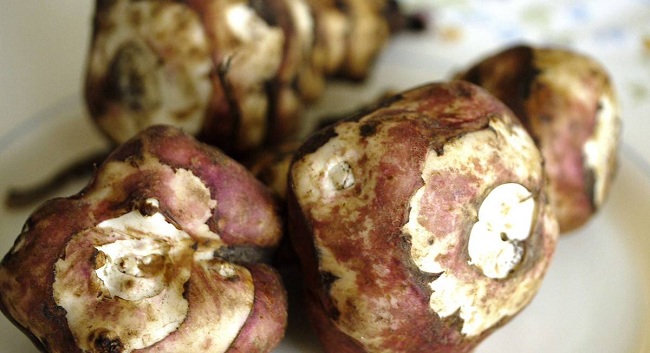 Jerusalem artichoke is planted not only to cure ailments of people but also to heal depleted soil and increase its fertility.
Jerusalem artichoke is often planted as a hedge, its tall stems provide protection from wind and weed spread.
The tubers of the plant are used to make the chickens lay more eggs better - the birds that were fed the tubers lay a couple of weeks earlier than the rest.
The closest relative of Jerusalem artichoke is the sunflower, which is scientifically called "tuberous sunflower". In our regions, it was nicknamed "earthen pear" because the tubers are similar in appearance and taste to a pear.
Until the 17th century, Jerusalem artichoke tubers could not be distinguished from potatoes, because they are similar in chemical composition. Later, the consumption of potatoes decreased significantly, because Jerusalem artichoke gained more and more popularity.
In some countries, Jerusalem artichoke was originally grown for medicinal purposes for the prevention and treatment of many heart diseases; it was not used as a vegetable.
In ancient times, people appreciated the benefits of Jerusalem artichoke, and prepared juice, tinctures, decoctions from it, using the stem and tubers, to treat wounds and burns, against pain in the joints and spine. Also, these funds were recommended for people suffering from poor sleep, appetite, or loss of energy.
In traditional medicine, Jerusalem artichoke is used to obtain inulin, which is needed by people with diabetes.
Fried tubers taste similar to chips, which is why they are often used to make chips in the United States. Moreover, they prepare diet coffee from Jerusalem artichoke.
Jerusalem artichoke is used in cosmetology to rejuvenate the face, smooth out wrinkles, for firmness and elasticity of the skin. Also, tuber-based products refresh the skin and even out its tone.
Top 20 Artichokes by Editors
Also Like
Comments for "10 Interesting Facts About Jerusalem Artichokes"