French Meat
by Editorial Staff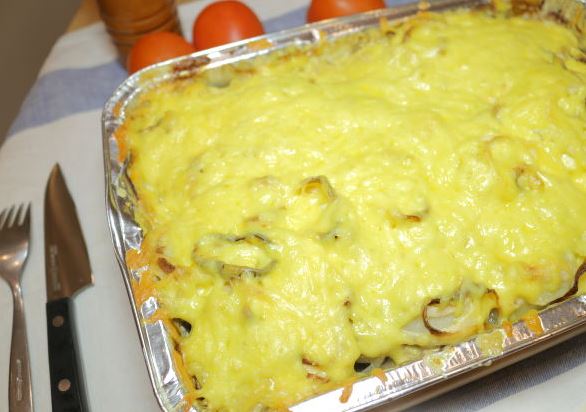 I present to your attention a popular dish of Russian cuisine, which, as they say, was invented by the French chef Urbain Dubois, especially for Count Alexei Orlov. Initially, the dish was called "Veal in Orlov style", but later the recipe was simplified and now the dish of baked layers of meat, potatoes, onions, and cheese is known to us as "French Meat".
Ingredients
Pork (neck) – 1.2 kg
Potatoes – 1 kg
Bulb onions – 2 pcs.
Russian cheese – 250 g
Mayonnaise – 50 g
Salt to taste
Pepper to taste
Vegetable oil – for lubricating the mold
Directions
Take the pork neck, cut it into steaks about 1 cm thick. Lay it out on the work surface and season with salt and pepper on both sides.

Peel the potatoes and cut them into slices about half a centimeter thick.
Cut the onion into rings. Grate the cheese.
Lightly grease the baking dish with vegetable oil and lay the prepared ingredients in layers. The layers are in the following sequence: meat, potatoes (do not forget to salt them), mayonnaise, onions. We send the meat in French into an oven preheated to 200 degrees. We bake meat and potatoes in the oven for 40 minutes.

It's time to cover the meat in French with cheese and place the meat with potatoes, onions, and cheese in the oven for another 10 minutes so that the cheese melts properly. After that, the meat in French can be served on the table.
Enjoy your meal!
Also Like
Comments for "French Meat"