Vegetable Lasagna Recipe White Sauce
by Editorial Staff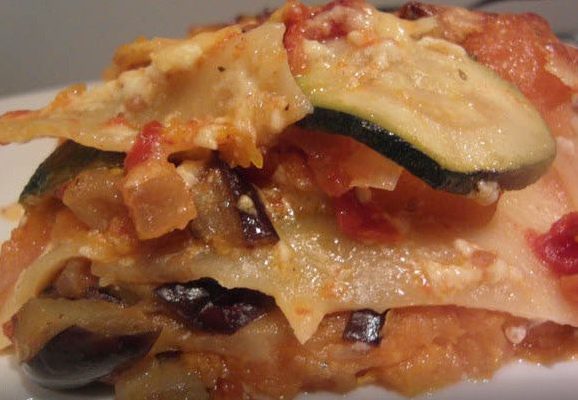 Vegetable lasagna sandwiched with tender pasta and creamy cheese sauce "Bechamel", finished with a cheese crust. This vegetarian dish is also great on the second day if there is any left.
Ingredients
950 grams of various vegetables (I used pumpkin, sweet potatoes, zucchini, eggplant) + mushrooms
40 ml (2 tablespoons) sunflower oil
1 large onion, peeled and finely chopped
1 head of garlic, peeled and finely chopped
2 tablespoon tomato paste (can be substituted with tomato sauce)
660 gr canned tomatoes
About 100 grams of lasagna sheets
100 g (1 cup) grated hard cheese
80 g butter
50 g (1/3 cup) flour
625 ml (2 1/2 cups) milk
44 grams (1/2 cup) grated Parmesan cheese
1/2 teaspoon nutmeg
Salt and pepper to taste
Instructions
Wash, peel and cut vegetables into strips or slices. Sprinkle them with salt and pepper. Add 1 tablespoon to them. olive oil and stir everything.
Separately chop the pumpkin, sweet potatoes (into rings/slices as you wish) and place on a baking sheet. Bake in the oven for at least 10 at 180 degrees. Turn over and bake for another 5-10 minutes. Add the rest of the vegetables (zucchini, eggplant), bake for 15 minutes, or until the vegetables are tender. Turn vegetables once while baking.
While the vegetables are baking in the oven, heat 1 tablespoon of olive oil in a skillet over medium heat. Add chopped onion, stirring, fry until the onion is transparent and soft (2-3 minutes). Add garlic and tomato pesto (you can use tomato paste), continuing to fry for another minute. Add chopped canned tomatoes. Reduce heat and "boil down" the mass for 10 minutes, until it thickens. I also added champignon mushrooms here for frying. Remove from heat and stir in baked vegetables.
Cooking cheese sauce: melt butter in a pan, add flour, stir well. Gradually pour in the milk until it thickens. Add nutmeg and cheese.
Transfer the vegetable mass to a 2.5-liter lasagne dish. Then lasagna sheets. Drizzle with half of the cheese sauce. Repeat. Sprinkle with cheese to finish and bake at 180 degrees for about 35-40 minutes. until golden brown.
Also Like
Comments for "Vegetable Lasagna Recipe White Sauce"