12 Interesting Facts About Bulgarian Peppers
by Editorial Staff
Bulgarian Peppers are loved by many of us. What housewives do not do with them: stew, salt, pickle, add to soups and salads, freeze. Peppers are especially tasty in summer and autumn when they are grown under the rays of the real sun in the open field. What do you know about Bulgarian Pepperr? We will tell you 12 interesting facts about him, and if you have something to add, be sure to leave your comment under this post!
Facts About Bulgarian Peppers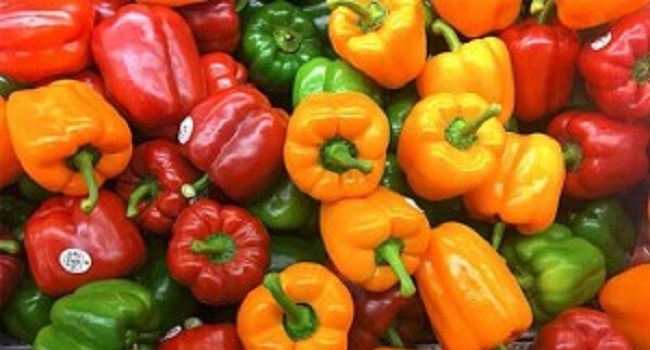 Bell peppers change color depending on the ripening stage. Therefore, the green bell pepper is actually the same red pepper, it was simply picked off before it changed color. And they each have a unique set of color-matching nutrients.
Bell peppers contain more vitamin C than black currants and lemons. It is especially abundant in red and yellow peppers. Moreover, useful ascorbic acid is hidden near the stalk, which is usually removed during cleaning.
Bell peppers have more carotene (provitamin A) than carrots. It is useful for eye support.
Paprika is made from sweet peppers. If you have a rich crop of peppers, wait until they are fully ripe and you can make this spice yourself.
"Pepperoni" is pepper in Italian. If you order "pepperoni pizza" in Italy, you will be served pizza with chopped bell peppers, not hot sausages. The usual pepperoni pizza in Italy is called "salame piccante".
Christopher Columbus is to blame for the fact that we use the word "pepper" for all kinds of vegetable peppers (Bulgarian, chili, jalapeno) and for such spices as ground black pepper. It was with his light hand that such names took root. In fact, black pepper in bags has nothing to do with any of the types of vegetable peppers.
Small bell peppers that are "unaffected by weather, pests, or other external factors," can grow inside normal bell peppers. This is not a mutation or some kind of anomaly, but a completely normal situation that occurs in the fruits of many plants.
In some states of America, green bell peppers are sometimes called "mango". This practice has developed at the beginning of the last century. In this regard, sometimes funny situations happen when in stores or cafes sellers cannot understand what the client needs: mango or green pepper.
Most of all sweet pepper is not produced by Bulgaria, as some might think, not Spain, not America, but China. And, in fact, our bell pepper is not at all Bulgarian. Most of the pepper varieties that are grown in the post-Soviet space are originally from Mexico.
Bell peppers are considered to be vegetables in cooking, although in a botanical sense they are fruits.
Bell peppers can only be called sweet when compared to other types of pepper. It contains much less sugar than, for example, tomatoes. Therefore, do not be afraid that you can get better from sweet pepper.
Among gardeners, you can often find the misconception that bell peppers are divided into female and male fruits. People have even identified signs of "sex" differences in pepper: the female pepper has four longitudinal ribs, and the male pepper has three. This is actually not true.
Also Like
Comments for "12 Interesting Facts About Bulgarian Peppers"