8 Interesting Facts About Bell Peppers
by Editorial Staff
Sweet peppers are a delicious and healthy vegetable. Or not a vegetable? What do you know about Bell Peppers? We will tell you 8 interesting facts about him, and if you have something to add, be sure to leave your comment under this post!
Facts About Bell Peppers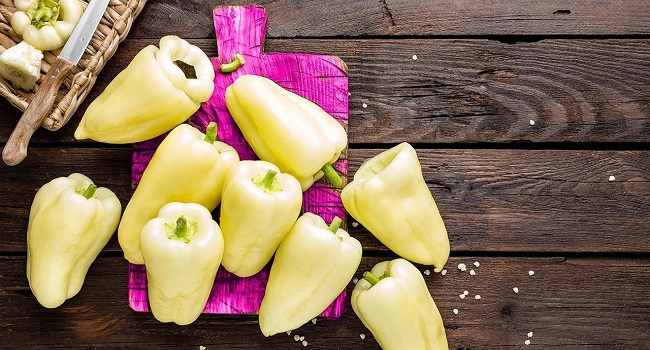 Sweet peppers are actually fruits, not vegetables.
Both sweet peppers and hot peppers are scientifically called Capsicum annum and are one species. For all their similarity, sweet peppers do not contain capsaicin, the chemical that makes peppers hot.
Peppers get their name from the black pepper. At the time Columbus was looking for black peppercorn, all hot spices were called Pepper.
Yellow, red, orange peppers are different degrees of maturity of green peppers. In the store, you can find bell peppers of various colors: green, red, orange, or yellow. With all this variety of flowers, they all grow on the same plant. Peppers of various colors differ in nutritional value, aroma, and taste. Pepper color is determined by planting time and ripeness.
Red peppers are the healthiest. Sweet peppers of any color are a source of vitamins A and C, but red peppers have 11 times more anti-cancer beta-carotene than green peppers. Plus, as mentioned above, bell peppers are the most mature version of the pepper and therefore have more nutrients than the intermediate versions.
In sweet pepper fruits, you can distinguish between females and males. (Myth!) Among amateur gardeners, there is a concept that the fruits of peppers can be male or female. If the end of the pepper has 4 bulges, then this is a female, if 3, then it is male. They are even endowed with different tastes and are divided by the abundance of seeds.
Did you know that pink flamingos are not pink at all, they turn pink because of the nutrients they get through food. For a long time, in zoos, flamingos were fed carrots and red peppers to maintain their pink color. Animals, like humans, cannot create carotenoids through photosynthesis the way plants do. They extract nutrients from food and are colored according to what they eat. The liver breaks down carotenoids by breaking down blue and green pigments and converting them into orange and pink pigments. In flamingos, for example, these nutrients travel to the feathers, which is why the flamingo boasts of its pink color. For example, in zoos, it was customary to feed flamingos with red peppers and carrots so that the flamingos retain their beautiful color. Now, in zoos, when flamingos molt, they are fed special food with all the necessary nutrients.
100 grams of red bell pepper contains 3 times more vitamin C than the same amount of orange. Fresh sweet red or green peppers are a rich source of vitamin C. The most concentrated content of this vitamin is found in red peppers, which contain about 213% of the recommended daily intake of this important vitamin per 100 grams, significantly higher than lemon or orange.
Also Like
Comments for "8 Interesting Facts About Bell Peppers"