15 Alluring Facts About Cherimoya
by Editorial Staff
Ice cream tree - this is how this plant is very often called. Cherimoya got this name for its consistency and taste, similar to a cold dessert.
Facts About Cherimoya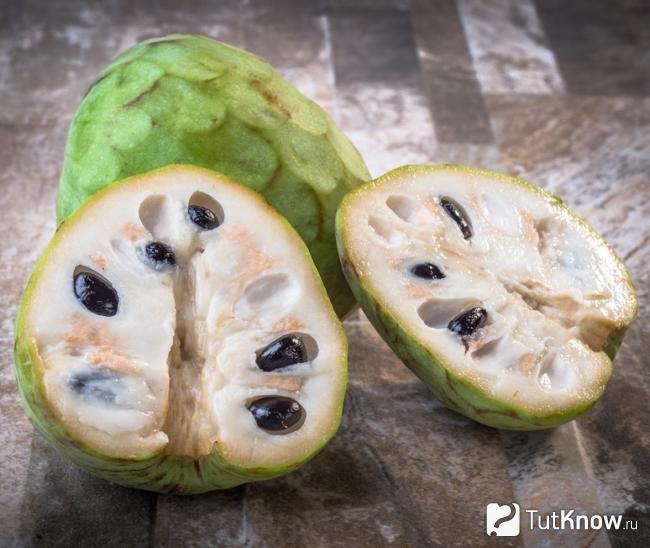 Cherimoya is a fruit tree of the Annonov family that grows wild in the Andes. His homeland is Bolivia, Peru, Ecuador, and Colombia. There are large plantations in Italy, Egypt, Algeria, Australia, and Spain. Translated from the Inca language, the name of the fruit sounds like "cold seeds".
Cherimoya is a fruit that looks somewhat like an apple and tastes like a banana with pineapple.
Their peel is bright green, with roughness, and the shape is pear-shaped. They weigh from 0.3 to 2 kg with a diameter of about 10 cm.
The pulp is smooth inside, with a small amount of black large seeds with a perfectly smooth and shiny surface. It tastes like a little bit of everything - mango, plum, strawberry, banana, pineapple. Only it is used for food and juice, peel and seeds are not suitable for this.
The fruit of the tree is considered exotic and is consumed both raw and cooked.
Even 20-30 years ago, cherimoya was practically not imported to other countries due to the excessive softness and poor preservation of the fruit. But with the development of new, more resistant varieties, long-term transportation became possible.
It is very easy to determine the ripeness of this fruit by the color of the peel. The more brown spots it has on it, the sweeter the cherimoya will be. If you shake a ripe fruit, the sound of seeds detached from the pulp will be clearly heard in it. Its softness should be like that of an avocado, slightly springy, not stiff, or too soft.
Cherimoya skin can be peeled like a potato, but very thinly, and then bite like an apple. Or you can simply cut the fruit lengthwise into two halves and eat it with a spoon. But you need to get rid of the bones in any case.
Cherimoya is the best fruit for making desserts; yogurts, drinks, sorbet, ice cream are made from it. Fruit juice is added to alcoholic drinks and fruit salads. The pulp is frozen and eaten as a confection. It is very tasty to wash down sweet cherimoya with black coffee.
The calorie content of the pulp of this fruit is 74 kcal per 100 grams. Nutritional value (100 g) - proteins - 1.65 g, carbohydrates - 15.5 g, fats - 0.7 g. Cherimoya contains a large amount of potassium, magnesium, and phosphorus. It contains slightly less iron, sodium, calcium, copper, and manganese. The vitamin complex is represented by group B, vitamins C and PP.
The fruit is very nutritious and easily digestible. Its use will help normalize the acidity of the stomach, improve liver function, and therefore help in the fight against excess weight.
Magnesium and potassium help to maintain normal blood pressure and are a good preventive measure for cardiovascular diseases. Ascorbic acid, in addition to acting as a general tonic, fights free radicals in the body, that is, helps it to be in good shape. Cherimoya is used in medicine and as an antibacterial agent.
Cherimoya is ideal for freezing for the winter, for which it is washed, dried, cut into pieces, and placed on film in the freezer. But dry, in this case, is not relevant, since the pulp is too tough. The resulting dried fruits can hardly be used to prepare compote.
Cherimoya is recognized worldwide as one of the best and healthiest fruits. Mark Twain wrote about this fruit that he is "perfect itself."
Considering that there are few contraindications to cherimoya, you should definitely taste it at least once in your life. Having tasted this fruit properly, you will certainly want to buy it again, because it is very tasty, relatively inexpensive and extremely healthy.
Also Like
Comments for "15 Alluring Facts About Cherimoya"