15 Appealing Facts About Pomelo
by Editorial Staff
A huge citrus miracle - pomes can be found on supermarket shelves. A juicy pomelo is a great option for a healthy vitamin snack, interesting salad addition, or dessert for those on a diet.
Facts About Pomelo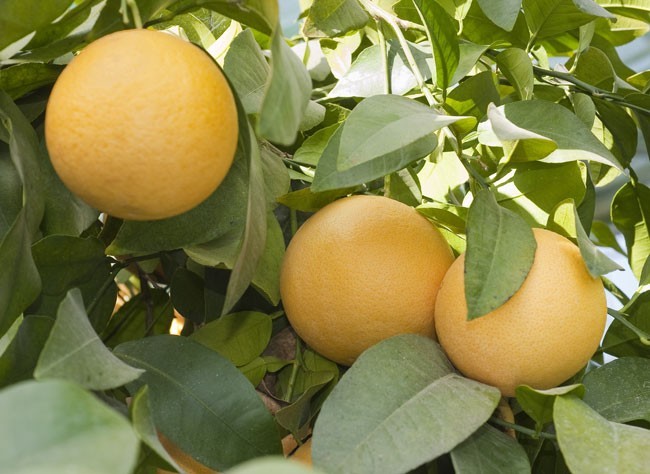 Pomelo is not a hybrid and not a product of genetic engineering, as many think. This is the largest citrus! It grows on trees up to 15 s in height and native to Southeast Asia and China. Today, five varieties of pomelo are cultivated, four with pale yellow pulp and one with pink, aromatic and tasty.
It is believed that the larger the fruit, the juicier the pulp. Therefore, choose fruits weighing one kilogram or more.
The calorie content of pomelo is only 38 kcal per 100 g, it is possible to even for those who follow a diet. Those who suffer from increased acidity of the stomach need to use the fruit with caution.
Pomelo is 85% water and vitamins. For example, 200 g of pulp contains almost a daily intake of vitamin C, which is necessary to support immunity in the winter.
This citrus contains a lot of vitamin E, which is also called the "vitamin of beauty" for its ability to influence the aging process, slowing it down.
The pomelo contains a fairly large amount of potassium, magnesium, vitamin B3, copper, and iron. Potassium stabilizes the heart, magnesium helps to resist stress, improves the functioning of the nervous system and the quality of sleep, vitamin B3, strengthens the walls of blood vessels, copper and iron have a beneficial effect on the process of hematopoiesis.
Pink pomelo extract is often added to skin and hair care products. It has anti-aging and whitening properties, reduces pigmentation, and also improves skin firmness. Vitamin B1 and zinc, contained in the fruit, improve hair growth and prevent dandruff.
Another, no less interesting fact - the pomelo is very much loved in China since for the Chinese this fruit is the most valuable gift that brings happiness, success, and abundance. The first mentions of this healthy citrus are found in Chinese treatises right before the birth of Christ, and they are still happy to give it on various holidays, especially on the eve of the New Year.
The Chinese (as well as from the peels of other citrus fruits) are used to prepare medicines for traditional and non-traditional Chinese medicine from pomelo peels.
It is believed that the pomelo has a sweetish taste and does not taste bitter at all, unlike grapefruit. This is not entirely true. Bitterness is present in the pomelo, and it is quite strongly felt, but it is not found in the pulp of the fruit, but in its shell (the white peel that surrounds the pulp). And if you remove it completely, and the fruit is cleaned easily enough, then you really only feel the sweetness.
Therefore, in order to properly clean the pomelo, it is not enough just to cut it and free it from its thick peel, like an orange. Under the main skin, there will be a thin white skin that fits the flesh, which is also better to remove and divide the fruit into slices. And then you will get real pleasure from this fruit!
A good ripe fruit should have a rich aroma, a pale green or yellow color, and be slightly springy, like a "rubber ball". Of course, it shouldn't be damaged in any way - a smooth and shiny fruit is the perfect pomelo.
It is better to eat citrus fresh, like any other fruit. Great salads with pomelo, desserts, especially marmalade and jam. It goes well with meat and fish, an excellent combination with any seafood, spicy dishes, and sweets. Since the fruit is absolutely non-calorie (about 38 calories per 100 g), it is used in dietary meals.
Pomelo pulp is not only tasty but also healthy, as it is rich in pectin. That is why this fruit is used in the preparation of marmalade. In addition to the fact that pectin also improves metabolism, it is a known fact that pectin cleanses the body of pesticides, toxic and radioactive substances!
Interestingly, our exotic fruit is also an antidepressant, as it contains substances that strengthen the nervous system and help fight bad mood.
Also Like
Comments for "15 Appealing Facts About Pomelo"