"Accordion" of Pumpkin with Honey-Garlic Sauce and Spices
by Editorial Staff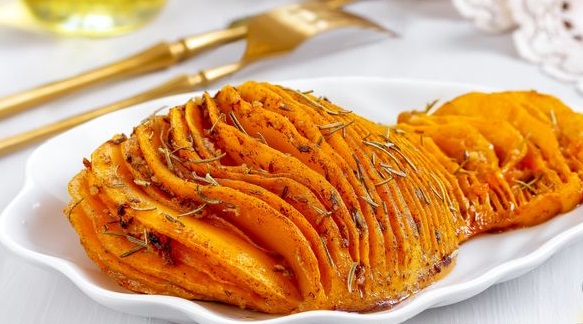 A simple and effective pumpkin dish that will decorate any feast. The pumpkin is chopped like an accordion and baked in the oven under a spicy sweet and sour sauce based on olive oil, vinegar, and honey, with the addition of cumin, cinnamon, and red pepper.
Ingredients
Pear-shaped nutmeg pumpkin – 1.3 kg
Honey – 30 g
Garlic – 1 clove
Apple cider vinegar 6% – 1 tbsp
Olive oil – 3 tbsp
Cumin (cumin), seeds – 1/2 teaspoon
Ground cinnamon – 1/2 teaspoon
Ground red pepper – 1/4 teaspoon
Dried rosemary – 1/2 teaspoon
Salt to taste
Directions
Slice the pumpkin in half lengthways. Peel and seed.

Slice the pumpkin accordion. Make deep cuts on each half of the pumpkin, about every 3-5 mm, without cutting the flesh to the end, so that the piece retains its overall integrity.
Turn on the oven to heat up to 190 degrees.
Prepare the sauce. To do this, peel and pass a clove of garlic through a press. Combine chopped garlic, 2 tablespoon. tablespoons of olive oil, honey, vinegar, cumin, cinnamon and ground red pepper. Mix everything well.
Line a baking sheet with baking paper. Put the prepared pumpkin pieces, brush with olive oil (1 tablespoon) and salt to taste.
Place the pumpkin in the oven, preheated to 190 degrees, and bake for 30-35 minutes, almost completely cooked.

Thoroughly brush the pumpkin slices with the prepared sauce, sprinkle with dried rosemary.
Place the pumpkin in the oven and bake at 170 degrees for another 20-25 minutes, until soft, fully cooked, and golden brown.
Enjoy your meal!
Also Like
Comments for ""Accordion" of Pumpkin with Honey-Garlic Sauce and Spices"