Chocolate Cake "Confetti"
by Editorial Staff
If you have a children's party or other celebration on your nose, then the recipe for how to make a Confetti chocolate cake will definitely come in handy. This is a juicy, coffee and chocolate cake with sour cream.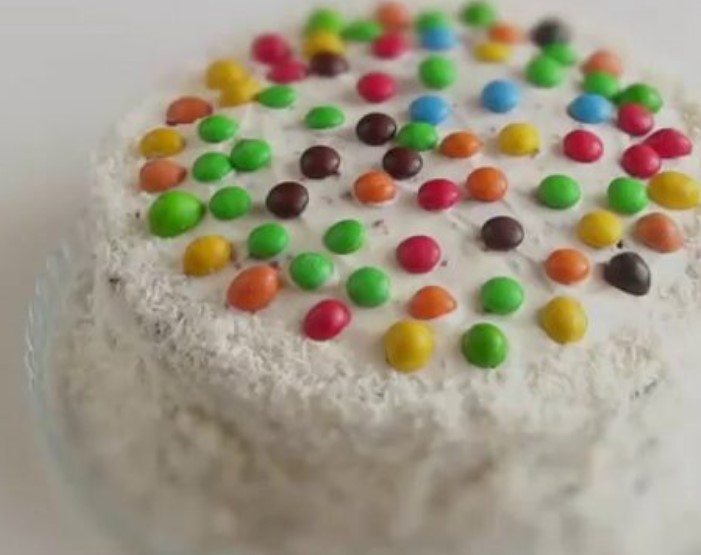 Cook: 4 hour
Servings: 8-10
Ingredients
Chocolate – 200 Grams
Butter – 200 Grams
Sugar – 160 Grams
Flour – 440-460 Grams
Coffee – 3 Teaspoons
Vanilla Sugar – 2 Teaspoons
Baking powder – 3 teaspoons
Water – 200 Milliliters
Sour cream – 700 Grams
Sugar – 150 grams (in cream)
Coconut flakes – 3 Art. spoons
Multicolored sweets – 150-200 Grams
Directions
Pour boiling water over the coffee. Then add chocolate to it and cook over low heat until dissolved. Leave to cool.
Mash butter with sugar and vanilla sugar.

Add eggs and stir.
Combine the chocolate and egg mixture.
Sift flour with baking powder and knead the dough.
Divide the dough into 2 pieces. Place in a parchment-lined mold. Bake for 20-25 minutes 180 degrees.
Cut both cakes into 2 pieces. Beat sour cream with a mixer with sugar. Start assembling the cake by spreading the cream on the cakes.

Sprinkle the sides of the cake with coconut and put it in the refrigerator for a couple of hours to soak. Decorate with sweets before serving.
Bon appetit!
Also Like
Comments for "Chocolate Cake "Confetti""