Alfredo Lasagna Recipe
by Editorial Staff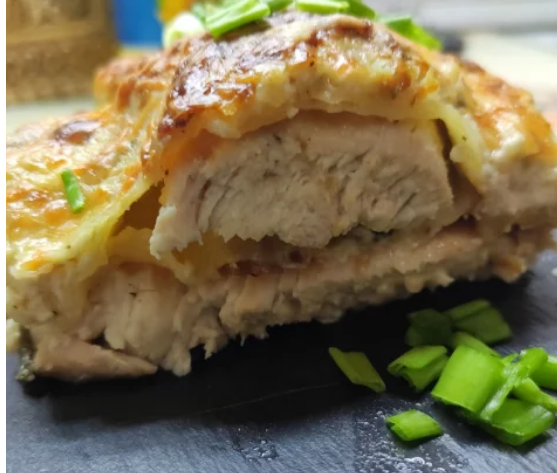 Lasagna is a traditional Italian dish. here we will prepare lasagna according to the Neapolitan recipe, to which the Neapolitan Alfredo has added his little secrets.
Ingredients
Chicken breast 900 grams.
Salt 4 teaspoon
Pepper 4 teaspoon
Dry garlic 4 teaspoon
Olive oil 4 tablespoons
Onions ½ pc.
Cream 20% 480 ml.
Parmesan 155 gr.
Parsley 35 gr.
Bacon 6 strips
Egg 2 pcs.
Egg yolk 1 pc.
Flour 250 gr.
Olive oil 3 tablespoon
Baking powder 1 teaspoon.
Salt 1 pinch
Green onions for decoration
Instructions
Knead the dough, put the dough into a bag. Put in the refrigerator for 30 minutes. Roll out the dough. Divide into layers.
We cut the chicken fillet, beat it off. Rub with salt, pepper, dry garlic. Heat the frying pan, add oil. Fry the chicken fillet until golden brown.
In the pan where the meat was fried, fry the chopped onion and garlic. Pour in the cream. We mix. Rub the Parmesan. Add to the sauce. Stir, salt, and pepper, add chopped parsley.
We start collecting lasagne. Lubricate the bottom of the mold with sauce and begin to lay out the layers of pasta.
Fry bacon, chop. Grease the pasta with sauce, layout the chicken fillet, sprinkle with bacon. We make several layers, grease the top layer with sauce, sprinkle with grated parmesan. We send it to the oven for 30 minutes.
Also Like
Comments for "Alfredo Lasagna Recipe"