American Lasagna Recipe
by Editorial Staff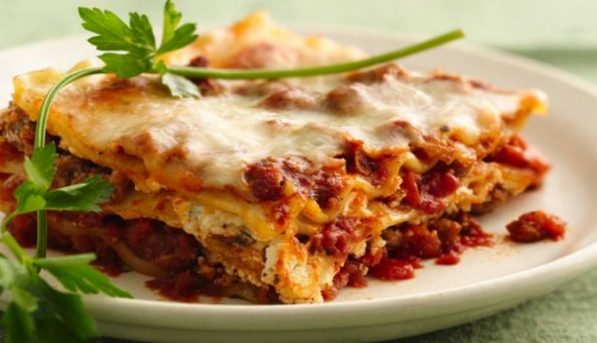 American cuisine absorbs many of the world's recipes. Traditional Italian lasagna is no exception. This recipe may seem simpler to you, but it still excites gourmets and lovers of delicious food. Lasagne is served in restaurants and at home dinners. This dish is really worth your attention.
Ingredients
Lean beef – 500 g
Onion – 1 piece
Garlic – 2 cloves
Basil – 1 tablespoon
Oregano – 1 teaspoon
Brown sugar – 2 teaspoons
Salt – 2 teaspoons
Pomiridors – 400 g
Tomato paste – 200 g
Lasagna noodles – 600 g
Eggs – 2 pieces
Ricotta cheese – 300 g
Parmesan cheese – 100 g
Dried parsley – 2 tablespoons
Mozzarella cheese – 400 g
Dill – to taste
Directions:
We take a frying pan. Heat minced beef, garlic, onion in it with medium heat. Heating up – 5 minutes, then add fat. Add oregano, basil, brown sugar, 2 teaspoons of salt. Add the diced tomatoes and tomato paste. We boil all this in a saucepan for half an hour, sometimes stirring.
The oven is 190 degrees. A large saucepan of salted water is brought to a boil. Then add the lasagna noodles. Cook for 5 to 8 minutes. We filter. Then put and dry the noodles.
In a separate container, mix Parmesan cheese, ricotta, eggs, parsley, and salt – 1 teaspoon.
We spread it out for baking. The first layer is 1/3 of the noodles in the bottom of the lasagna. For noodles – filling, a mixture of ricotta, mozzarella cheese, and sauce. Then repeat.
Sprinkle extra Parmesan cheese on top.
We bake for half an hour. Let cool for 10 minutes before serving. You can decorate with a sprig of dill.
Enjoy your meal!
Also Like
Comments for "American Lasagna Recipe"