Bacon Lasagna Recipe
by Editorial Staff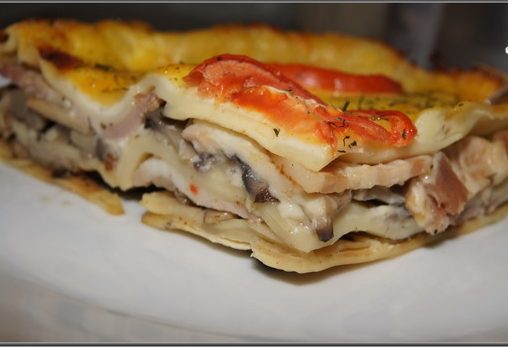 Recipe for making lasagna with bacon and Colby cheese. A very tasty and satisfying dish that will appeal to all members of your family.
Ingredients
lasagne sheets (it took me 12, 4 for each layer)
500 gr. champignons
400 gr. brisket / bacon
150 gr. cheese
2 tablespoon flour (no slide)
1 onion
2 tomatoes
800 ml. milk
30 gr. butter
salt
pepper, basil.
Instructions
Chop the onion and mushrooms. Fry the onions in olive oil until golden brown. Add mushrooms. Fry for 5-7 minutes. Season with salt and pepper.
Cut the bacon into thin and wide strips (about 1.5 mm thick and 3 cm wide), trim the skin. Fry bacon in a dry skillet until the fat loses color.
Melt the butter in a saucepan over low heat. Mix flour with 100 ml. milk. Once a homogeneous mass is achieved, mix it with the remaining milk. Pour the milk into a saucepan with butter. Cook over low heat until thick, stirring constantly. Season with salt and pepper.
Boil the lasagna sheets in salted water for about 5 minutes. Grease the mold with olive oil. Layout a layer of sheets.
Grease the leaves liberally with sauce, evenly distribute 1/2 part of the mushrooms, add a little sauce again and add 1/2 part of the bacon evenly. The second layer is the same: sheets, sauce, mushrooms, sauce, bacon. Then lay out the last layer of sheets, grease liberally with sauce, and bake the lasagne for 20 minutes at 180'C.
Grate the cheese on a fine grater. Remove the lasagna from the oven, sprinkle with the cheese, and put it back in the oven for 15 minutes.
Cut the tomatoes into rings. Take out the lasagna again, put the tomato slices on it and bake again for 5 minutes.
Sprinkle the finished lasagne with basil.
That's all! good appetite!
Also Like
Comments for "Bacon Lasagna Recipe"